It has been some time since we posted any updates here on the blog, the TSM team have been quite busy outside of the Auction House so far in 2019. Today however, we wanted to take a moment to share some insight as to what's to come in the near future for TradeSkillMaster, with version 4.10.
New UI
One of the biggest areas we tackled in version 4.10 is a complete iteration on the UI and user interaction philosophy of the addon. Since the launch of version 4, we have read lots of discussions and comments with feedback on the design of the addon, both positive and negative, to understand the underlying reasons that created these feelings and experiences for you, the user.
We've made more efficient use of space and reduced the bulky overheads across the addon. In the primary interfaces such as Shopping, this gives more room to see the searches you use most often for example. Most of the buttons and actions most-used have been rearranged or moved to more prominent positions, creating a smoother flow as you move around the Auction House.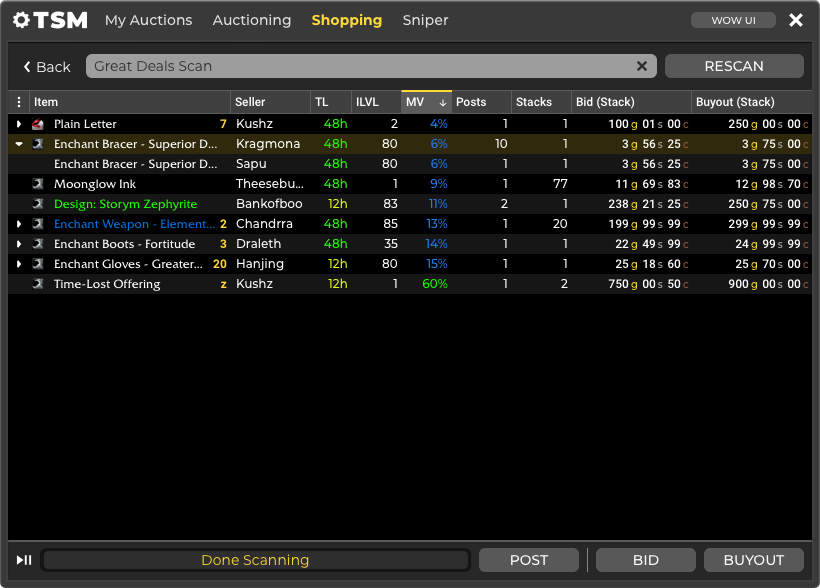 After running a shopping scan, the results are polished and clean making it easier to see the information you're looking for at-a-glance. Columns are more clearly marked when sorted, and more of them are sortable. You can even resize them.
You may have noticed the pause button in the Shopping Scan screenshot, this is a new way of managing your scans and jumping in to buy something you spot that's a crazy deal without losing your scan data, or even post items before your Auctioning scan is complete without needing to start over.
Custom Price & Value Improvements

Being able to reference your operation prices has been a popular request for some time, this will finally be possible in TSM 4.10. As an example, you have a Shopping Operation assigned to a group which provides a maximum shopping price for any item contained within it. This maximum shopping price can be referenced as a custom value in your Auctioning Operation assigned to the same group for example, or your minimum Auctioning price defined in the Auctioning operation can be referenced in your Shopping Operation. We think this will help create very powerful operations and tailor them even more to your preferences.
Empowering your operations even further, we will also be allowing the use of custom values and prices in some non-price fields. Take your Crafting Operation as an example, you may want to craft more or less of an item depending on its region sale rate, this will be possible by using a logic function in your max restock quantity instead of only using integers.
We are also exploring the addition of more value sources based on your own personal accounting data, such as sale rate to compliment existing purchase history and expiration data.
Crafting Spotlight: UI Improvements
Another common request is to replicate the default WoW UI with recipe pinning or favouriting. We have implemented this in to the TSM4 Crafting window and you can add your most commonly used recipes or cooldowns to the top of your recipe list, regardless of which expansion they're from. Working in tandem with the Task List you'll never miss a daily cooldown or restock. You'll also have finer control over the Crafting Queue, with options to remove an item from the queue entirely with the click of a button regardless of quantity, and modifying the quantity on the fly with a text box instead of increments of 1.
As part of the general UI revamp, we have made more use of the space in this interface too. The materials required for a recipe has a bigger space to fill which is useful for those bigger crafts, plus the toggle between the recipe list and your TSM Group tree is more distinct for easier access.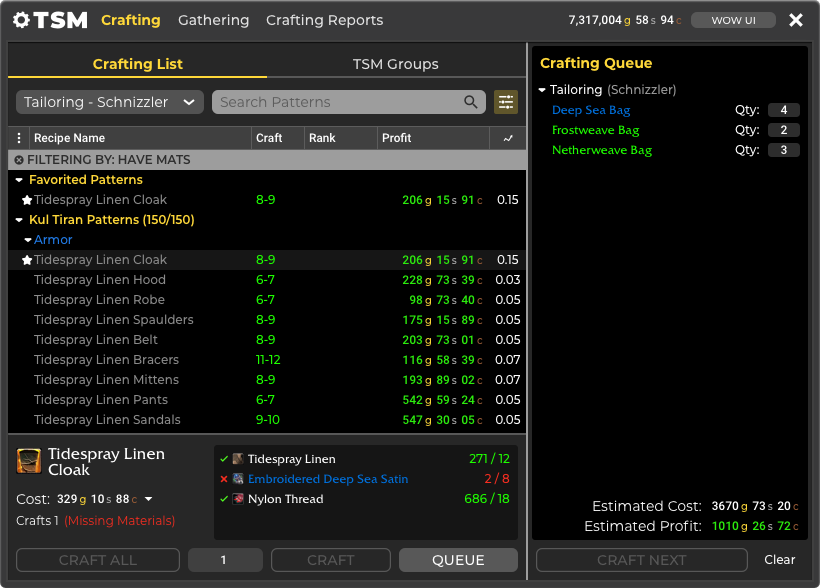 We're very excited for what's to come with the version 4.10 of TradeSkillMaster, let us know what you think by joining the discussion on our Discord server, and be sure to follow us on Twitter for more news and updates!