Following on from our last update with a recap of what was done and was to come in TSM in support of Dragonflight professions and systems – we're pleased to share further improvements as well as the release of TSM 4.13!
Recent Dragonflight Profession Updates
Rounding out the last releases in TSM 4.12, let's recap what has been introduced since the start of the year and our last blog update.
Updated milling / prospecting / disenchanting rates for Dragonflight reagents.

Given the significant variations of profession knowledge and equipment we gathered a lot of data to represent averages across the board as best as possible.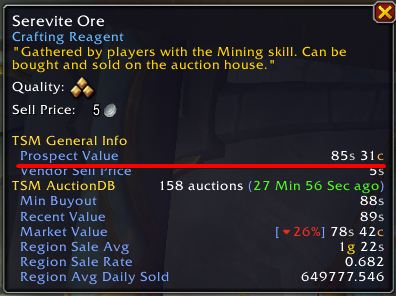 New quality selector to easily switch between different target qualities for a given crafted item, as well as easy access to add finishing reagents.

Selecting a different quality will automatically adjust the reagents selected to meet the selected quality, and is further enhanced in 4.13!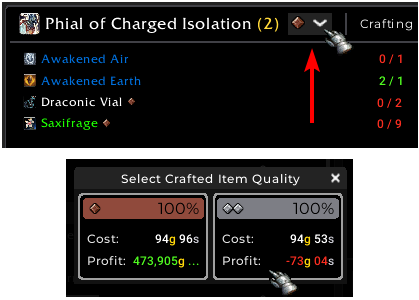 Quality reagents can now easily be changed by clicking on the material row in the material list

Seeing each quality of the reagent for at-a-glance pricing info and inventory quantity helps you decide what to use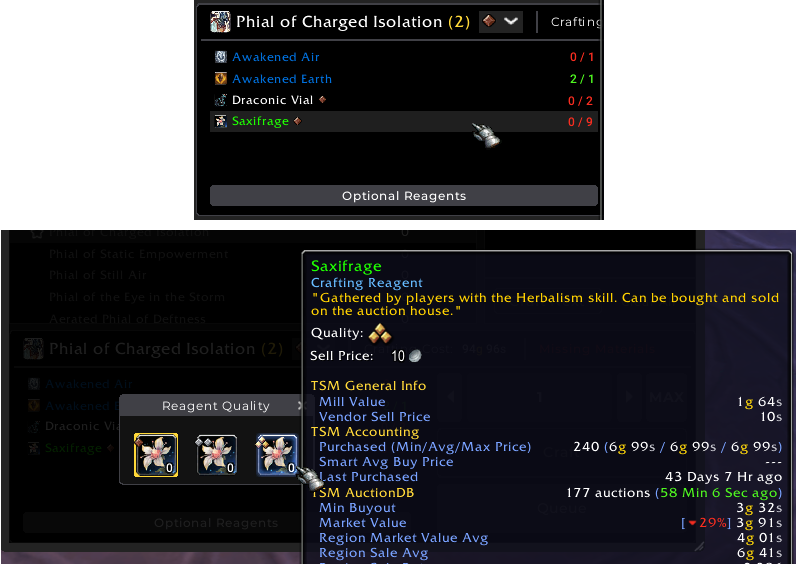 New improvements in 4.13
With the launch of patch 10.15 we are introducing version 4.13 of TSM with a number of improvements to Dragonflight profession support and other additions we think you'll love.
4.13 Profession Updates
Iterating on the things introduced in 4.12, we have continued to improve profession support including:
Adding support for Dragonflight salvaging for milling and prospecting
Adding support for crafting inspiration to show potential cost and profit of a crafted item that is not guaranteed

Improving the Optional Reagent flow further from the modal introduced in 4.12 to an in-line editor when a recipe is selected, allowing quicker access to add embellishments and finishing reagents
Region-wide support in 10.1.5
With the introduction of direct trading between any characters for gold and items on any realm in a given region, we are also very excited to expand on TSM cross-faction support added in 4.12 to cover region-wide tracking and reporting.
In 4.13, and if the option is enabled in the TSM General Settings, addon information such as inventory and accounting data will be available on any realm in your region. That way you can reference what you paid for an item and see how many you have on any realm from any other realm.
This will also include gold quantity and gold history, so your TSM Dashboard will cover all realms in your region if you're actively using the addon on multiple realms!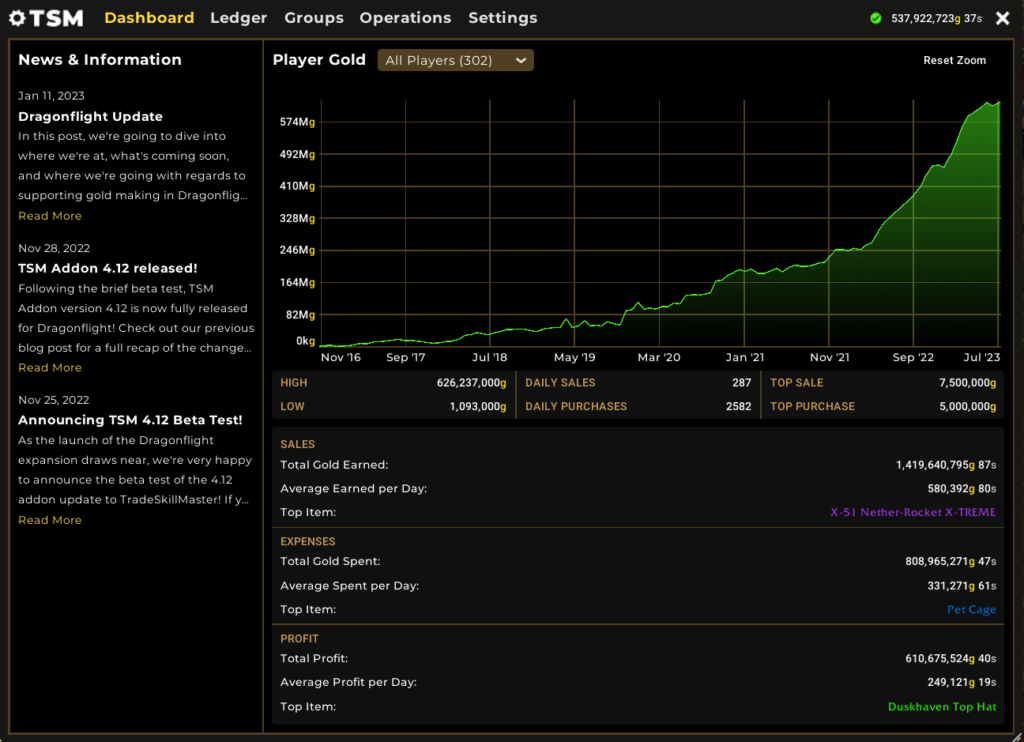 To manage Accounting Data, the option to remove old sales and purchases has been modified to support an input instead of a predefined list in the Accounting Settings. If you're making use of this feature and experience some performance issues it's recommended to purge older data (which won't affect your gold charts).
Custom String Performance Enhancements
Some TSM users have created some monster Custom Strings for all kinds of Operations and material prices. We've spent some time optimizing how Custom Strings are calculated to improve performance for very large or complex Custom Strings in very large profiles. This should also reduce the number of errors encountered when using TSM with some content creator profiles.
Grouping pets by level
We are also introducing 'item level' grouping for Pets in 4.13, where the pet item level translates to the level of the pet. When you're grouping items by 'item level' they will be treated differently when shopping and posting through operations vs pets of other levels that are not grouped for example.